About Vila Real | About UTAD | About Douro Valley | Venue maps | WiFi access | Travel information | Accommodation
About Vila Real
Vila Real is a beautiful town in the heart of Douro Valley, a privileged wine region wine region. This is an elected place for the lovers of nature, food and wine, whose people is well known for their hospitality.
The EPIA-2019 will take place in Universidade de Trás-os-Montes e Alto Douro (UTAD) in the Geociências Building connected to the Rectorate Building. Three rooms will be used: Aula Magna (Large Auditorium), Auditório 1 (Small Auditorium) and Auditório 2 . Aula Magna is located in the 1st floor of the Rectorate Buiding and Auditórios 1 bellow Aula Magna in the ground floor and Auditório 2 in the ground floor just in front of the main entrance ( Audit. Geociências ). 
The registration desk will be located just at the entrance of Aula Magna.  
Signs to EPIA-2019 will be posted in the UTAD Campus roads and within these buildings to Auditórios 1 and 2.
About UTAD
The University of Trás-os-Montes and Alto Douro was formed in 1986, although its history builds upon valuable heritage drawn from the "old" Polytechnic of Vila Real, which was founded here in 1973.
This Institute assumed a relevant role, contributing to regional development. That's why, in September 1979, the University Institute of Trás-os-Montes and Alto Douro was created and, less than 10 years after that, in recognition of its intense activity in the dominion of teaching, scientific and technological research, the Government transformed the University Institute into a University. Nowadays, UTAD is considered an important reference point in the Portuguese University System.
According to its Statutes, this University, whose fundamental aims are Teaching, Research, and Extension and Support to the Community, shall be a Centre of Excellence for permanent education and to the creation, transmission and diffusion of culture, science and technology.
UTAD has its own place within the core of Higher Education in Portugal since it contributes to satisfying the needs regarding courses of national interest, choosing areas in which the labour market is not yet exhausted.
UTAD's flexibility, demonstrated by its capacity to adapt to new situations, harmonizing the available resources with the modernity of teaching and being able to propose new forms of learning and of scientific transmission, is a testimony to its vitality.
It is precisely this vitality that justifies it's position in the core of Portuguese Universities.
About Douro Valley
Trás-os-Montes and Alto Douro is a region that has asserted itself historically and traditionally as a space of large homogeneity encompassing the districts of Vila Real and Bragança and a small part of the north of the districts of Viseu and Guarda, whose affinity with the rest of the region results from the economic, cultural and climatic conditions of the Douro River valley.
The contrasts of a landscape where majestic mountains, fertile plains, streams and the rivers, give shape to a charming natural space that invites us to appreciate it will leave no one indifferent. It's a region of secular traditions with a firm cultural identity, in which the people are it's finest resource. The hospitality translated in the emblematic expression "come in, who is it?", the straight forwardness and the greatness of character, the higher sense of responsibility and the enormous capacity of work and dedication are some of the traits that define it's personality.
The natural resources are the regions greatest wealth. The hydraulic resources are particularly noteworthy; from the production of electric energy, the production of natural mineral and medicinal waters, thermal springs, to the resources of ornamental stones, the forestry resources and most of all, the winegrowing culture with a special emphasis on the production of Port.
It is also a region with huge potential for tourism, thanks to the ideal natural conditions, the absence of pollution, the beauty of the landscape and the richness of its historical and archeological patrimony, to which we add the traits of a resistant popular culture (workmanship, folklore, popular games...).
Venue maps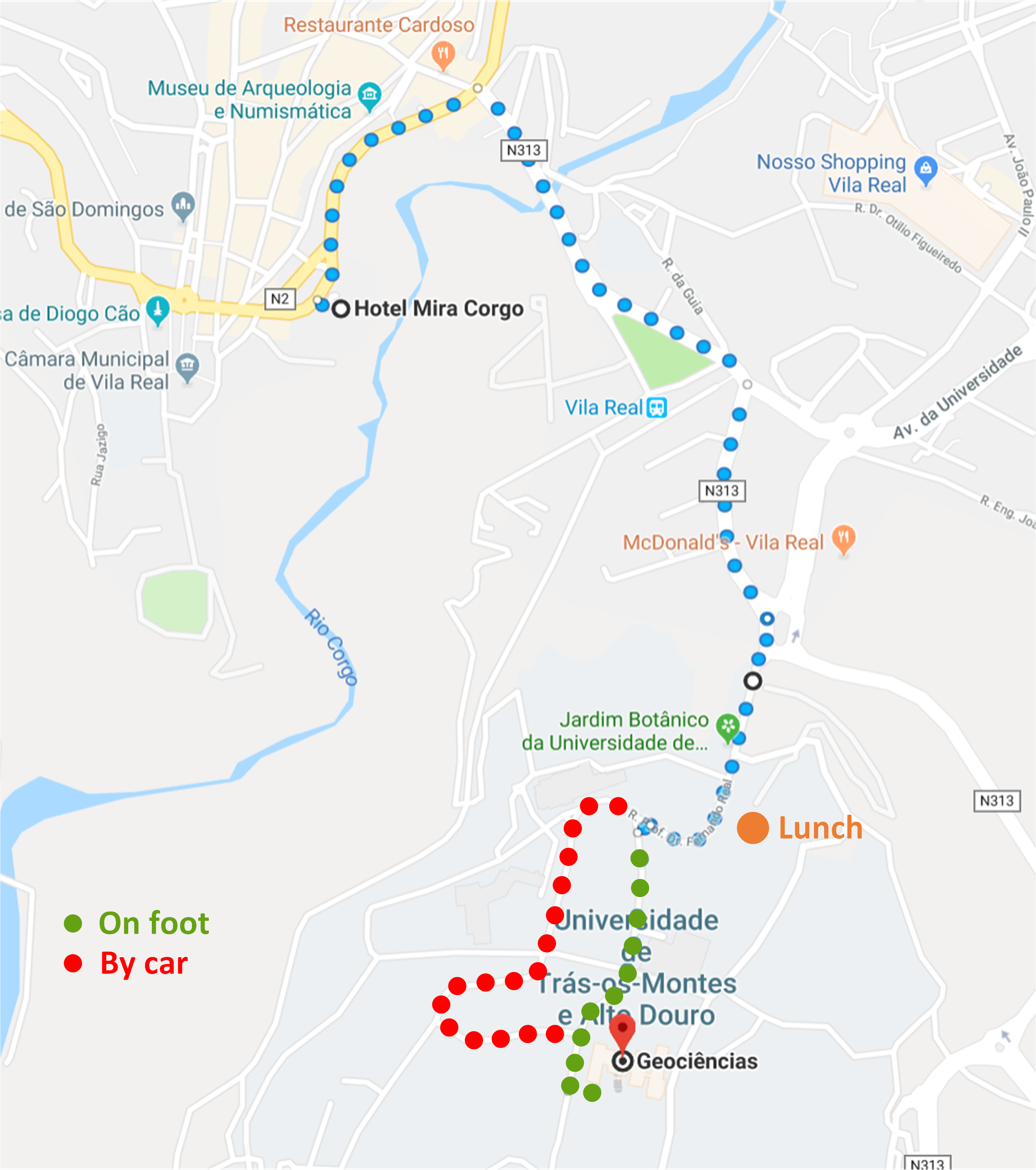 WiFi access
UTAD participates in the *Eduroam* roaming access service network, so members of the international research and education community can use WiFi just as they do at their home institution.
For those without *Eduroam* access (e.g. from the industry sector), UTAD shall provide guest access upon request. Please, notify the conference organiser ahead of time.
Travel information
Reaching Vila Real
The nearest international airport is Oporto (OPO), ca. 15km from the centre of Oporto (ca. 20 minutes by taxi), and ca. 100km from Vila Real (ca. 1 hour by road; there is no train service) Coach/ taxi/ rental car prices may be competitive, so it is worth comparing (e.g. online, or at the airport)

Reaching Vila Real from Oporto Airport (and Oporto) by Car

You can travel by car using a highway between Oporto Aiport and Vila Real. You should look for traffic sign with route A4 ( Vila Real). This highway connects Oporto to the city of Brangança passing through Amarante and Vila Real. It should take you about 1h to 1h15m to reach Vila Real.
It is best to stay in the A4 highway (be careful to not leave the A4 to IP4) just after Amarante. You are going to pass though the longest road tunnel in Portugal with 5.6 km long (Túnel do Marão). Just before arriving to Vila Real you should cross a long Bridge and come across with a exit to Vila Real (and Sabrosa). You should pass two round-about. When you reach the third round-about you should leave in the second exit to UTAD. You are entering the secondary gate. If you pass through the third round-about you will find a fourth round-about connecting to the UTAD main entrance ( leave in the third exit).   
Reaching Vila Real from Oporto Airport by Bus
- Take the bus (rede-expressos) at the airport to Gare Rodoviária, the bus is direct to this bus station.
http://www.transdev.pt/aeroportoporto/detalhes.php?id=3
- Take a bus, inside this station, to Vila Real  (Ticket from: "Porto"  to "Vila Real")
Address of Gare Rodoviária:
Rede Expressos (Gare Rodoviária)
Rua Alexandre Herculano,366
4000 Porto
Phone: +351222006954
http://www.rede-expressos.pt


Other bus company, near São Bento - Oporto Centre, that has regularly bus to Vila Real:

Rodonorte
Travessa Passos Manuel
4000 Porto    
Phone +351 222 005 637
www.rodonorte.pt
Time table:
A - means Daily
D - means Monday to Friday
Accommodation
The welcome reception of EPIA 2019 will be held at Hotel Miracorgo, ( Adress: Av. 1º de Maio, 76, 5000-651 Vila Real) located in the city center of Vila Real (50 meters from city hall). The Hotel is within walking distances from the University (20 minutes). Buses number 3 and 4 go directly between the University and the hotel, departing every 20 minutes. The bus stops are conveniently located.
Hotel reservations can be also be made, subject to availability, directly with the Hotel. To make a reservation please email reservas@hotelmiracorgo.com.
Besides the Conference Hotel (Hotel Miracorgo: GPS COORDINATES GPS: 41.295486, -7.743946 ) other Hotels and Hostels in Vila Real are the following:
Quinta do Paço Hotel (****)  (3,4Km from the City Center)
Residencial Encontro ( In the City Center)
Residencial Clássico (**) (1.4Km from the City Center)
Residencial Montanhês (0,7Km from the City Center)
Hotel  Miraneve (**) (In the city Center) 
More information about where to stay in Vila Real can be found in: More Accomodation Info